TMJ Therapy – Corbin, KY
Keeping Your Jaw Functional and Pain Free
If you've noticed a strange clicking sound whenever you open your mouth or constantly suffer from a painful stiff jaw, it might mean that the joint connecting your lower jaw to your head has been damaged. If you leave the problem alone for too long, the pain will become more severe, and you might not even be able to move your jaw normally. Luckily, Dr. Whitaker can offer a few different treatments to help you find relief from your discomfort. Contact Corbin Family Dental Care today to ask about your options for TMJ therapy.
What is a TMJ Disorder?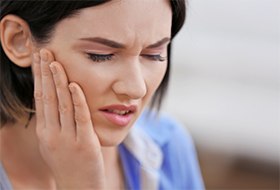 A TMJ disorder is an issue with the temporomandibular joint (TMJ) located on both sides of your head. This is the joint you use to move your jaw while you're eating, talking, laughing, or biting. When the TMJ is damaged or becomes strained, the result is often a very uncomfortable disorder.
While the exact cause of a TMJ disorder isn't always clear, you're more likely to suffer from one if you:
Sustain a major injury to the mouth.
Suffer from teeth or jaw alignment problems.
Grind and clench your teeth unconsciously during the day or at night.
Have poor posture.
Are under a lot of stress.
Develop arthritis.
Regularly chew gum for a long time.
Environmental factors may also need to be considered; violinists, for example, tend to suffer from TMJ disorders more often because holding their instrument under their jaw leads to strain. Furthermore, women tend to experience TMJ disorders more often than men.
What are the Signs of a TMJ Disorder?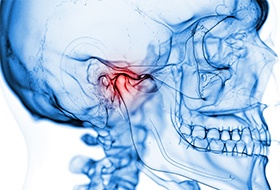 Obviously, a TMJ disorder can cause pain whenever you move your jaw. However, you might also experience other forms of discomfort as well; for example, you might have constant headaches, neck aches, back aches, and earaches. In some cases, you might hear a popping, clicking, or grinding noise whenever you open your mouth. Such sounds are often harmless, but if they're accompanied by pain, they usually point towards a TMJ disorder. Many patients even experience a ringing in their ears.
In severe cases, a damaged TMJ might prevent you from opening your mouth all the way or from moving your jaw in certain directions. You need to seek treatment before the restriction of motion becomes debilitating.
Treatment Options for TMJ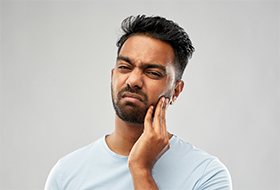 After Dr. Whitaker has examined your mouth, she can create a TMJ treatment plan for you. One of the most common solutions for the disorder is a mouthguard or occlusal splint. These oral appliances keep the jaw in a more natural resting position to relieve some of the pressure on the joints. As a bonus, they can also protect your teeth from the grinding that can contribute to a TMJ disorder.
Other possible treatments we might discuss with you include:
Occlusal Adjustments: Small amounts of enamel are removed from your teeth to help them align properly.
Surgery: Depending on the nature of the disorder, your TMJ might need to be surgically repaired.
Mouth Exercises: In some cases, you might need to follow a stretching regimen designed to reduce jaw tension.