Dental Implants — Corbin, KY
A Lifelong Solution for Missing Teeth
In the realm of tooth replacement, dental implants are clearly in a class of their own. Compared to traditional bridges and dentures, dental implants offer the most natural-looking, reliable, and durable solution to the problem of missing teeth. With them, Dr. Katherine Whitaker can help a patient close the gaps in their smile for a lifetime, rebuilding their confidence and oral health at the same time. Are you ready to enjoy your complete smile again? If so, give us a call today to schedule your implant consultation.
Why Choose Corbin Family Dental Care For Dental Implants?
State-of-the-Art Solution Designed to Last for Decades
Partnered with the Best Specialists for Optimal Results
Permanently Replace Any Number of Missing Teeth
What Are Dental Implants?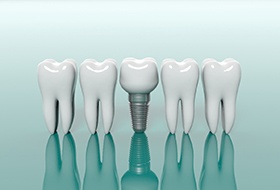 Natural teeth have two distinct parts. Traditional tooth replacement options like dentures and dental bridges only replace the visible portion of your smile, the crowns. However, without the roots to support them, these options aren't nearly as functional or reliably as real teeth. That's where dental implants come in! They're they only tooth loss solution designed to replace the entire structure of a missing tooth from top to bottom.
A dental implant is actually a small titanium post. It can be inserted directly into the jawbone where the roots of a missing tooth once were to replace them. Once in the jaw, it will fuse with the surrounding bone tissue to form a strong, stable foundation. On top of the dental implant is a small connector piece called an abutment, which secures the final restoration in place above the gumline. This could be a custom-made crown, bridge, or denture depending on how many teeth you're missing. Whichever type of restoration you need, the end result is the same: a smile that looks, feels, and functions just like natural!
The 4 Step Dental Implant Process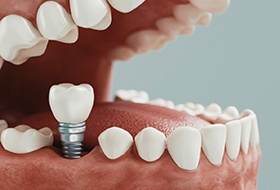 Getting dental implants in Corbin is a process that takes multiple appointments, so it's important that you know what to expect from your treatment. Dr. Katherine Whitaker will be happy to walk you through your custom treatment plan step-by-step and answer all your questions during your initial consultation. If you're ready to take the first steps towards filling the gap in your smile, contact us today to schedule a consultation!
Initial Dental Implant Consultation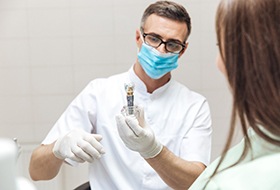 Before anything else, we need to determine that you're a good candidate for dental implants. We'll examine your jaw and check to make sure they're dense enough to support the implant posts; if they're not, you might need to get bone grafts first. Oral health problems like gum disease will also need to be treated.
Of course, we'll also need to check how many teeth are missing so that we can decide how many implants are needed and what kind of restoration they'll support. Is there only one tooth that can be replaced by a crown, or will you need a dental bridge supported by a pair of implants to replace multiple teeth at once? We'll make a plan based on your individual needs.
Dental Implant Surgery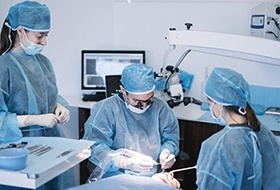 Next is the dental implant surgery, where the new artificial roots are placed into the jawbone. To guarantee that our patients receive only the highest level of care, Dr. Whitaker partners with a network of local oral surgeons and periodontists that she personally knows and trusts. Thanks to their specialized expertise, patients can look forward to an easy and seamless implant process from beginning to end. After the placement procedure has been completed and a patient has been given time to heal, they will return to Corbin Family Dental Care to have their implants restored by Dr. Whitaker.
The surgery itself is relatively straightforward. First, the surgeon or periodontist will ensure your comfort by numbing the area. They may also offer sedation dentistry to help calm your nerves as well. Then, a small incision is made in the gums to access the jawbone. The dental implants are placed carefully in pre-planned areas, and then the gums are close up again. Finally, a protective cap will be placed over the implant and you'll be sent home to heal.
Dental Implant Osseointegration & Abutment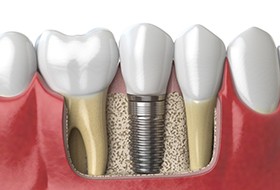 Before you can receive your permanent restorations, your jaw needs time to heal around the implant. A process called osseointegration will let the bone essentially fuse with the metal post. This is how dental implants prevent bone loss; being integrated in this way lets them provide the stimulation that the jaw needs to stay healthy and strong.
It can take several months for osseointegration to be complete. After that, it'll be time to place an abutment. This is a connecting structure that will hold the crown or other restoration firmly in place. The abutment is placed at the gumline; after that, a little more healing is required before you can receive your new tooth.
Delivery of Dental Implant Restorations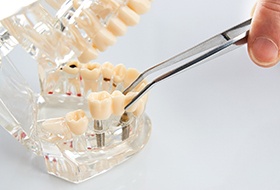 Finally, it'll be time to receive your permanent crown, bridge or denture. It will be made from a high-quality dental ceramic. Not only will your new teeth be durable, but they'll be so natural-looking that most people won't be able to tell your smile was ever missing a tooth in the first place!
The Benefits of Dental Implants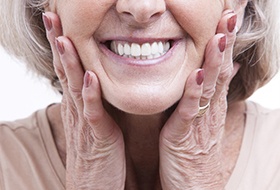 Choosing dental implants to hold your replacement teeth, rather than forcing existing teeth to carry the burden, comes with its fair share of benefits that you won't find anywhere else. For example:
Your biting force becomes much stronger, making it easier to enjoy your favorite foods.
The jawbone is regularly stimulated by the implants, improving the health of your remaining teeth and preventing a sunken, aged look in the facial features.
You don't need to remove any existing tooth structure, which is always a good outcome, especially for patients who already have reduced enamel.
Your tooth replacement can last 30 years and longer when properly maintained, making it a fantastic long-term solution compared to traditional bridges and dentures.
Who Dental Implants Can Help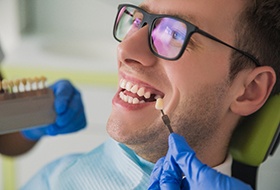 Dental implants can be used to replace any number of teeth using a variety of restorations. At Corbin Family Dental Care, all our implant restorations are designed to ensure they fit comfortably in a patient's mouth while giving them a smile they're proud to show off.
Missing 1 Tooth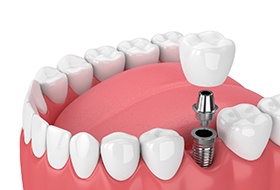 In the case of a single missing tooth, Dr. Whitaker will attach an all-porcelain crown directly to the prosthetic root using a connector called an abutment. Because this tooth will have the same two-part structure as those surrounding it, only you and Dr. Whitaker will know that it is not real!
Missing Multiple Teeth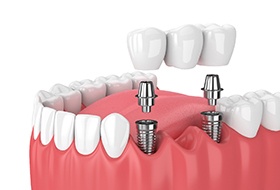 For patients missing multiple teeth in a row, two implants can be placed on either side of the gap to support prosthetic teeth to fill it, creating a bridge. Implant bridges are more secure, last longer, and provide better function than their traditional counterparts, plus they don't have a telltale black line near the gums.
Missing All Teeth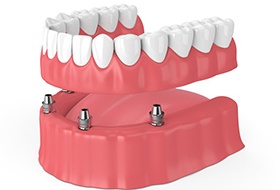 Multiple implants can even be strategically placed into the jawbone in order to secure a full denture. Compared to traditional removable dentures, implant dentures won't slip and slide within the mouth, plus they restore much more of a patient's bite strength, enabling them to enjoy more foods with ease.
Understanding the Cost of Dental Implants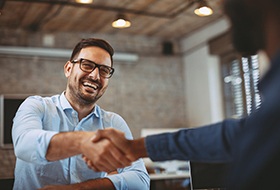 Dental implants are quite versatile and can meet the needs of patients with varying degrees of tooth loss. Because of this, the overall cost of the procedure can vary quite a bit from person to person depending on their particular needs and goals. Factors such as how many teeth a patient wants to be replaced, where they are located, and what kind of restoration they want can all influence the final price.
While dental implants often do cost more upfront than other replacements, they tend to be the better investment over time thanks to their longevity. Traditional bridges and dentures require periodic maintenance and complete replacement every 7-10 years, while dental implants can easily last for 30 years if not longer with just simple brushing and flossing. This can literally save a patient thousands of dollars over the course of their lifetime, plus the esthetic and health benefits provided by implants simply can't be matched by other options.