Dental Implants — Corbin, KY
A Lifelong Solution for Missing Teeth
In the realm of tooth replacement, dental implants are clearly in a class of their own. Compared to traditional bridges and dentures, dental implants offer the most natural-looking, reliable, and durable solution to the problem of missing teeth. With them, Dr. Katherine Whitaker can help a patient close the gaps in their smile for a lifetime, rebuilding their confidence and oral health at the same time. Are you ready to enjoy your complete smile again? If so, give us a call today to schedule your implant consultation.
Why Choose Corbin Family Dental Care For Dental Implants?
State-of-the-Art Solution Designed to Last for Decades
Partnered with the Best Specialists for Optimal Results
Permanently Replace Any Number of Missing Teeth
What Are Dental Implants?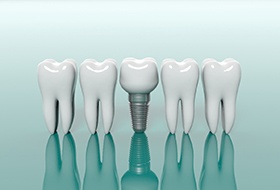 Natural teeth have two distinct parts. Traditional tooth replacement options like dentures and dental bridges only replace the visible portion of your smile, the crowns. However, without the roots to support them, these options aren't nearly as functional or reliably as real teeth. That's where dental implants come in! They're they only tooth loss solution designed to replace the entire structure of a missing tooth from top to bottom.
A dental implant is actually a small titanium post. It can be inserted directly into the jawbone where the roots of a missing tooth once were to replace them. Once in the jaw, it will fuse with the surrounding bone tissue to form a strong, stable foundation. On top of the dental implant is a small connector piece called an abutment, which secures the final restoration in place above the gumline. This could be a custom-made crown, bridge, or denture depending on how many teeth you're missing. Whichever type of restoration you need, the end result is the same: a smile that looks, feels, and functions just like natural!
The 4 Step Dental Implant Process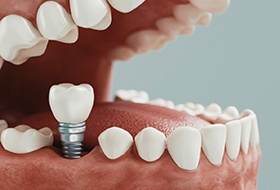 Getting dental implants in Corbin is a process that takes multiple appointments, so it's important that you know what to expect from your treatment. Dr. Katherine Whitaker will be happy to walk you through your custom treatment plan step-by-step and answer all your questions during your initial consultation. If you're ready to take the first steps towards filling the gap in your smile, contact us today to schedule a consultation!
Initial Dental Implant Consultation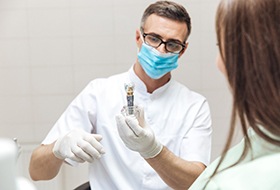 Before anything else, we need to determine that you're a good candidate for dental implants. We'll examine your jaw and check to make sure they're dense enough to support the implant posts; if they're not, you might need to get bone grafts first. Oral health problems like gum disease will also need to be treated.
Of course, we'll also need to check how many teeth are missing so that we can decide how many implants are needed and what kind of restoration they'll support. Is there only one tooth that can be replaced by a crown, or will you need a dental bridge supported by a pair of implants to replace multiple teeth at once? We'll make a plan based on your individual needs.
Dental Implant Surgery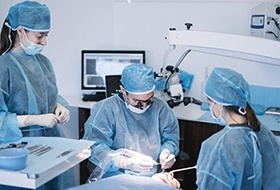 Next is the dental implant surgery, where the new artificial roots are placed into the jawbone. To guarantee that our patients receive only the highest level of care, Dr. Whitaker partners with a network of local oral surgeons and periodontists that she personally knows and trusts. Thanks to their specialized expertise, patients can look forward to an easy and seamless implant process from beginning to end. After the placement procedure has been completed and a patient has been given time to heal, they will return to Corbin Family Dental Care to have their implants restored by Dr. Whitaker.
The surgery itself is relatively straightforward. First, the surgeon or periodontist will ensure your comfort by numbing the area. They may also offer sedation dentistry to help calm your nerves as well. Then, a small incision is made in the gums to access the jawbone. The dental implants are placed carefully in pre-planned areas, and then the gums are close up again. Finally, a protective cap will be placed over the implant and you'll be sent home to heal.
Dental Implant Osseointegration & Abutment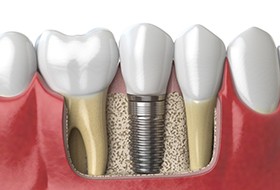 Before you can receive your permanent restorations, your jaw needs time to heal around the implant. A process called osseointegration will let the bone essentially fuse with the metal post. This is how dental implants prevent bone loss; being integrated in this way lets them provide the stimulation that the jaw needs to stay healthy and strong.
It can take several months for osseointegration to be complete. After that, it'll be time to place an abutment. This is a connecting structure that will hold the crown or other restoration firmly in place. The abutment is placed at the gumline; after that, a little more healing is required before you can receive your new tooth.
Delivery of Dental Implant Restorations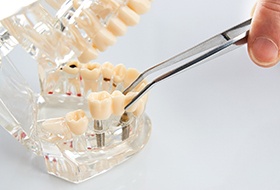 Finally, it'll be time to receive your permanent crown, bridge or denture. It will be made from a high-quality dental ceramic. Not only will your new teeth be durable, but they'll be so natural-looking that most people won't be able to tell your smile was ever missing a tooth in the first place!
Benefits of Dental Implants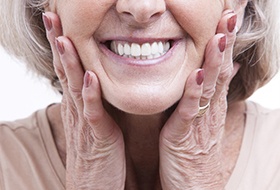 While there are various tooth-replacement options available, dental implants offer the most comprehensive restoration solution for your smile. Unlike traditional treatments, such as dentures and dental bridges, your new teeth will be directly supported by titanium posts for a more natural-feeling result. This means you won't have to rely on other nearby healthy teeth or your soft gum tissues to enjoy a full smile again. By serving as your new permanent roots, you can be sure to enjoy many essential advantages from your treatment. Keep reading to learn more about the benefits of dental implants in Corbin.
Day-to-Day Benefits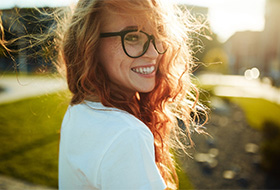 No dietary restrictions: With dental implants, you can regain 80% or more of your natural chewing power, meaning you'll be able to comfortably munch on all your favorite foods without worrying about your restorations shifting out of place.
Simple maintenance: Unlike traditional dentures, you won't have to remove the restorations from your dental implants and soak them overnight with cleansing agents. You can simply brush, floss, and rinse with a mouthwash like with any of your normal teeth.
Younger appearance: Dental implants preserve the jawbone and surrounding tissues, retaining a more youthful facial structure in the long run.
Improved confidence: Since your restorations won't accidentally move out of position, you can feel free to eat, smile, and laugh, which can boost your confidence in your pearly whites.
Health Benefits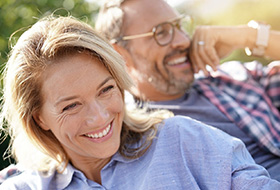 Protect your surrounding teeth: More traditional restorations, like dentures and dental bridges, rely heavily on nearby teeth or your gum line for stabilization. This can place stress on either, increasing the risk of decay, damage, or even an extraction later on. Implants support themselves, avoiding these complications altogether.
Preserve your jawbone: Your jawbone will typically begin to shrink after losing a tooth due to a lack of stimulation. This can lead to further tooth loss if left untreated. Dental implants serve as your new roots, providing the necessary stimulation to promote strong bone tissue and preserve healthy teeth.
Long-Term Benefits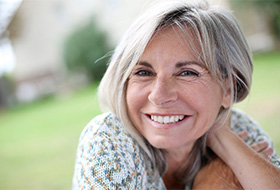 Long-lasting restoration: While your restoration may need to be replaced in the far future, your dental implants themselves can last several decades to a lifetime with proper care!
Save thousands of dollars: Dental implants may come with a higher upfront cost, but they won't require as many adjustments or replacements as dentures or dental bridges, which can become pricey in the long term.
High success rate: Dental implants usually have a success rate of 95%, even 10 years after being placed. This means they provide a reliable solution for restoring your pearly whites.
Who Dental Implants Can Help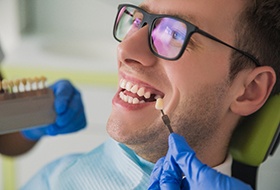 Dental implants can be used to replace any number of teeth using a variety of restorations. At Corbin Family Dental Care, all our implant restorations are designed to ensure they fit comfortably in a patient's mouth while giving them a smile they're proud to show off. One of the best aspects of this type of treatment is that most adults suffering from tooth loss are capable of achieving full, complete smiles with the help of permanent prosthetics! Below is a breakdown of the types of implants offered as well as who is a good candidate for treatment. If you have questions, don't hesitate to contact us to schedule an appointment with a dental implant dentist in Corbin, KY today!
Who is a Good Candidate for Dental Implants?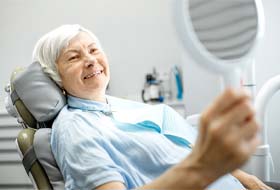 When meeting with your dentist to discuss your candidacy for treatment, you should know there may be a good chance that you'll require preliminary treatment. Many individuals with tooth loss suffer a lack of jawbone density or signs of tooth decay or gum disease, all of which need to be addressed before dental implant placement can occur.
The three factors our dental team will consider when evaluating you during your initial consultation include:
Your oral health – If you have tooth decay or gum disease, we may need to administer periodontal therapy or tooth extraction.
Your overall health – We will determine if you're in good enough overall health to receive minor oral surgery, as autoimmune diseases and chronic health conditions can make implant placement difficult and sometimes, unsuccessful.
Your jawbone density – If you lack jawbone density, you'll be required to undergo a bone grafting procedure.
Missing One Tooth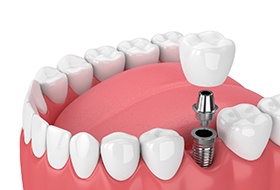 One missing tooth is enough to cause difficulties eating and speaking. If you no longer want to be one of the 120 million Americans living without one tooth, it's time to consider dental implants in Corbin, KY. In the case of a single missing tooth, Dr. Whitaker will attach an all-porcelain crown directly to the prosthetic root using a connector called an abutment. Because this tooth will have the same two-part structure as those surrounding it, only you and Dr. Whitaker will know that it is not real!
Missing Multiple Teeth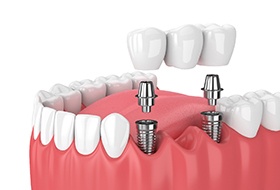 For patients missing multiple teeth in a row, two implant posts can be placed on either side of the gap to support prosthetic teeth to fill it, creating a bridge. Implant bridges are more secure, last longer, and provide better function than their traditional counterparts, plus they don't have a telltale black line near the gums. Also, if your multiple missing teeth are not consecutive, we can create an implant partial that acts just like the original but attaches instead to the implant posts, not your healthy, natural teeth.
Missing All Teeth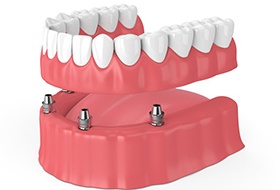 Multiple implants can even be strategically placed into the jawbone in order to secure a full denture. Compared to traditional removable dentures that only sit on top of the gums and rely on your natural suction and denture adhesive to hold them in place, implant dentures won't slip and slide within the mouth, plus they restore much more of your bite strength, enabling you to enjoy more foods with ease.
Understanding the Cost of Dental Implants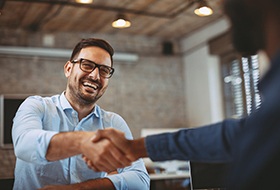 Dental implants in Corbin, KY are quite versatile and can meet the needs of patients with varying degrees of tooth loss. Because of this, the overall cost of the procedure can vary quite a bit from person to person depending on their particular needs and goals. While dental implants often do cost more upfront than other tooth replacements, they tend to be the better investment over time thanks to their longevity. They can literally save a patient thousands of dollars over the course of their lifetime, plus the aesthetic and health benefits provided by implants simply can't be matched by other options.
Preliminary Treatments & Dental Implant Surgery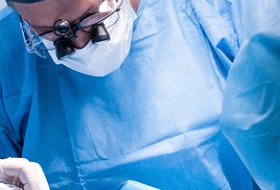 Many patients require preliminary treatments, such as gum disease therapy or tooth extractions, before they are eligible for dental implants. Each of these services comes with its own cost.
The dental implant surgery incurs a separate fee. Since Dr. Whitaker wants you to enjoy the best treatment results possible, she partners with local specialists for this part of the implant procedure. The practice that she refers you to will help you manage the financial details of your surgery.
The Parts of Your Dental Implant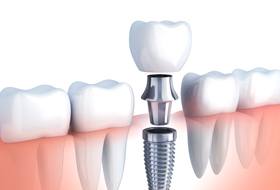 There are numerous types of dental implants. They can come in varying sizes and be made out of different materials. They also come from numerous manufacturers. Naturally, all of these factors can have a bearing on cost. Similarly, the materials used to make your final restoration (crown, bridge, or denture), as well as its size, will affect the total price of your treatment. Other factors, such as the technology used in your procedures, may also affect the financial aspects of your care.
How Dental Implants Can Save You Money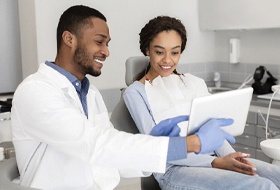 While the upfront cost of dental implants in Corbin, KY is higher than that of traditional dentures, they are usually a superior value. Traditional prosthetics typically need to be replaced every 5 – 7 years or so; they can add up to be quite expensive in the long run! Dental implants, on the other hand, have the potential to last a lifetime, and when you calculate their cost per day over a few decades, they end up being quite affordable. Plus, they offer numerous health benefits that can prevent problems and spare you from having to pay for various restorative treatments.
Does My Dental Insurance Cover Dental Implants?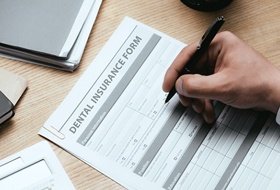 Dental insurance policies vary greatly in how they view dental implants. Some classify them as a major procedure and will cover a part of their cost, while others do not cover them at all. Fortunately, even if your plan does not cover your implants, it is likely to cover other portions of your treatment, such as your final restoration or preliminary procedures. Our team will be happy to help you navigate your benefits and file your claims.
Making Dental Implants Affordable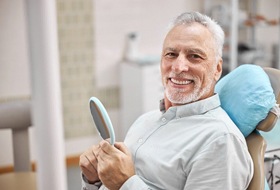 As your implant dentist in Corbin, KY, we want you to be able to afford your new teeth! In addition to helping you with insurance, we can also assist you as you apply for low-interest financing. If you are approved for credit (which most patients are), you may be able to choose from a variety of payment plans, according to what would fit best with your monthly budget.
Dental Implant FAQs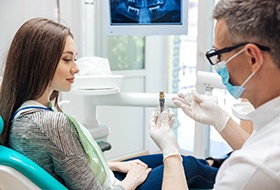 If you suffer from extensive tooth loss, you're probably thinking about rebuilding your smile with dental implants in Corbin. Since this method of tooth replacement requires oral surgery, it's completely normal to have a few concerns before committing to treatment. At Corbin Family Dental Care, we want to be as helpful as possible throughout your journey towards a complete, fully functioning grin. That's why we've decided to answer some of the most common questions we receive from patients about dental implants. If you'd prefer to speak directly with a member of our team, don't hesitate to reach out!
How Long Do Dental Implants Last?
Dental implants are one of the most permanent solutions for missing teeth, designed to last decades. However, that's only the case if you take proper care of your new smile. Their exact lifespan varies significantly based on the patient's health and lifestyle.
That said, here are a few steps you can take to help your implants last as long as possible:
Practice good oral hygiene (i.e., brush twice a day, floss daily, rinse with mouthwash daily)
Visit your dentist regularly for checkups and cleanings
Avoid chewing on hard, sticky, tough foods or using your teeth as tools
Does Getting Dental Implants Hurt?
Before the procedure begins, your mouth will be fully numbed with a local anesthetic to ensure you're completely comfortable. Since you'll most likely be under dental sedation as well, your body's ability to register pain will be significantly lower. It's worth noting that while the surgery itself shouldn't hurt, your mouth may feel sore for the first few days following your procedure. Luckily, you can easily manage the discomfort by taking pain medication and using cold compresses.
What Can Cause Dental Implants to Fail?
Even though it's uncommon, dental implant failure typically occurs for one of two reasons: peri-implantitis and failed osseointegration. Peri-implantitis is a type of gum disease that develops from poor oral hygiene, damaging the jawbone and soft tissues supporting the implant. Meanwhile, failed osseointegration is exactly as the name implies – when the implant post failed to successfully integrate with the jawbone. Some other causes of dental implant failure include chronic teeth grinding, tobacco use, poor oral hygiene, and certain medications. During your consultation, your dentist will explain how you can minimize your risk of implant failure.
Can I Get Dental Implants If I Smoke?
Yes, but it's not recommended. Tobacco (whether you smoke, chew, or vape it) causes dry mouth, which slows down healing and can interfere with the implant's ability to fuse with the jawbone. Smoking during your recovery can also dislodge the blood clot forming over the surgical site, causing a dry socket. Therefore, it's best to quit smoking at least two weeks before your procedure and wait to continue the habit for at least two to three months afterward. Of course, this is the perfect opportunity to kick the bad habit to the curb altogether!