Dental Crowns & Bridges – Corbin, KY
The Building Blocks of a Renewed Smile
Dental crowns and bridges are two of the most commonly used restorations in all of dentistry, and the reason for that is simple: they work!
Why Choose Corbin Family Dental Care for Crowns & Bridges?
Every restoration is custom-made for each smile
Partnered with the best local dental labs to deliver world-class results
Only uses the latest technology, techniques, & materials
Dental Crowns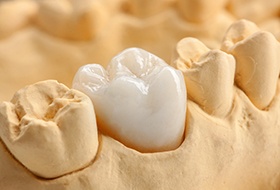 A crown is a tooth-shaped restoration that literally sits on top of a damaged tooth in order to protect it and bring back its original shape and appearance. With one, Dr. Whitaker can:
Repair a large cavity
Replace portions of a broken tooth
Hold a weakened tooth together
Improve the appearance of a permanently stain or misshapen tooth
Replace a missing tooth in conjunction with a dental implant
Dental Bridges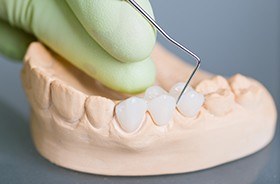 A dental bridge can help fill in the gap left by one or more missing teeth. Two dental crowns are placed on the teeth on either side of the missing ones, and these are used to support new prosthetic teeth to close the space. And, if a patient doesn't have enough healthy teeth to hold a bridge, one can also be made using dental implants. Either way, a bridge can drastically improve the appearance and function of the smile at the same time.