Nightguards for Bruxism – Corbin, KY
Don't Let Your Teeth Wear Themselves Down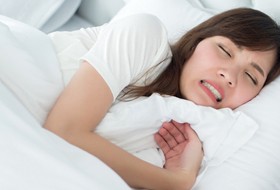 You might take good care of your teeth during the day, but what about at night? If you have bruxism, your teeth could be gradually wearing themselves down while you sleep without you even being aware of it. Eventually your pearly whites might even become fractured. To protect yourself from grinding teeth at night, contact Corbin Family Dental Care today to ask about getting a nightguard designed to prevent bruxism.
Why Choose Corbin Family Dental Care for Nightguards for Bruxism?
Protect Your Teeth from Nighttime Grinding
Nightguards That Have Been Customized for Your Mouth
Care from a Compassionate Team of Professionals
What is Bruxism?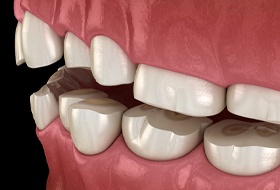 "Bruxism" is the medical term for tooth grinding. It can occur while you're awake, but in many cases, it happens unconsciously while you're asleep. The exact causes of bruxism are unknown, but the condition has been linked to anxiety, stress, excessive alcohol consumptions, smoking, caffeine, snoring and disorders such as sleep apnea.
If you only suffer from occasional bruxism, there may not be any lasting damage done to your teeth. On the other hand, if it happens frequently and isn't addressed, it could lead to moderate to severe dental damage as well as facial pain or disrupted sleep.
What are the Symptoms of Bruxism?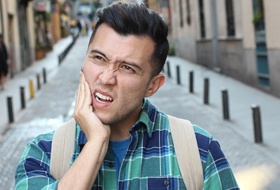 When you clench and grind your teeth repeatedly, you put intense pressure on your jaw muscles and surrounding tissues. Over time, you might notice the following symptoms:
Frequent dull headaches in the morning
Jaw pain, tenderness or soreness
Pain or fullness in the ears
Teeth that have become sensitive (for example, feeling pain when biting something hot or cold)
Painful, loosened or fractured teeth
Insomnia
Increased anxiety or depression
Not all these symptoms will necessarily manifest in your case, but they should each be considered a cause for concern on their own. Call Corbin Family Dental Care as soon as possible so that we can figure out whether a nightguard could help you.
How Nightguards Treat Bruxism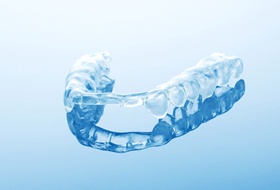 As you might expect from the name, you'll wear your nightguard when you go to bed. It acts as a barrier between your upper and lower teeth; it can also help lighten the tension and cushion your jaw muscles whenever they clench. This will help alleviate the pain and protect the enamel of your teeth. In the long run, this device can prevent a lot of damage in your mouth.
Why You Should Get Your Nightguard From a Dentist
You can get a "one size fits all" nightguard from your local pharmacy, but if you want the best results, you should get a customized appliance from a dentist. Not only will it be made of higher quality material, but since it will be designed based on an impression of your mouth, it'll be far more comfortable as well. The improved fit will also let the device provide better protection overall.
Think you might be suffering from bruxism? Make an appointment with Dr. Katherine Whitaker right away so that you can have a safe, comfortable night's sleep again.