Cosmetic Dentistry – Corbin, KY
Get the Smile You Truly Deserve
Do your teeth ever make you think twice before smiling? Do you find yourself constantly worrying that people will notice your cracked, stained, chipped, gapped, or crooked teeth? If so, you're far from alone, and Dr. Whitaker is ready to give you a beautiful, flawless smile using cosmetic dentistry. With the treatments detailed below, she can make any imperfection seemingly disappear, leaving behind a big, bright, and gorgeous set of teeth in its place. With us, the only limit is your imagination, and you can get started today by giving us a call to schedule a consultation.
Why Choose Corbin Family Dental Care for Cosmetic Dentistry?
Beautifying treatments specially-designed for each patient
Can provide everything from a subtle to a dramatic result
Most treatments can be completed in just one or two appointments
Porcelain Veneers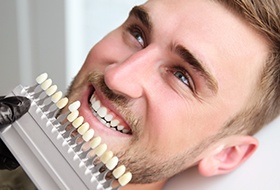 Porcelain veneers have long been one of the most popular cosmetic treatments around the world, and that's because they're able to eliminate a wide variety of smile flaws at the same time, including:
Permanent stains
Chips
Cracks
Gaps
Misshapen teeth
Undersized teeth
Slightly crooked teeth
They are extremely thin porcelain shells that are designed to resemble healthy, white enamel, and they fit directly over the teeth to dramatically improve their appearance. They are always custom-made to a patient's specifications, so you can get just one or an entire set to transform your smile.
Learn More About Porcelain Veneers
Metal-Free Dental Restorations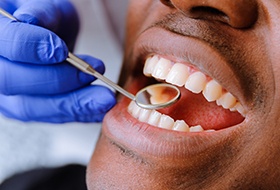 Metal-free restorations are the perfect marriage of durability and beauty, which is the ideal combination when it comes to dentistry! These crowns, bridges, inlays, and onlays are made of 100% dental porcelain, which is known for its ability to mimic the strength and appearance of natural enamel, even down to how it reflects light. With this material, Dr. Whitaker can create a restoration so lifelike that even a patient will have trouble telling it apart from their natural teeth.
Learn More About Metal-Free Restorations
Dental Bonding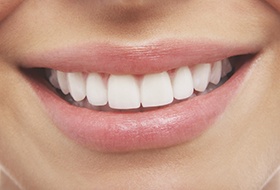 Looking for a quick and affordable solution that is guaranteed to improve the appearance of your smile? With direct bonding, Dr. Whitaker can literally sculpt a problem tooth to perfection. She does so by applying a naturally-colored composite resin to a tooth and molding it to look like a regular part of the enamel, hiding any imperfection in the process. The procedure itself is completely painless, only takes about an hour, and can effectively eliminate minor stains, cracks, and gaps.
Zoom! Teeth Whitening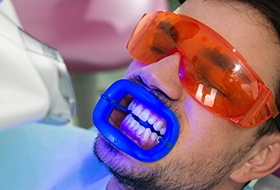 Is your smile looking less than white lately? Want to fix that? With Zoom Whitening, our team can break up even the most stubborn stains to restore that youthful glow to your grin. You can either get a quick treatment in our office or we can provide you with your own take-home kit so you can whiten whenever and wherever you want.
Learn More About Zoom Whitening
Gum Recontouring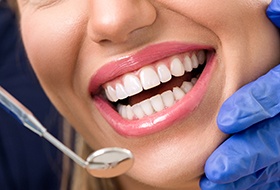 Are your teeth being overshadowed by your gum line? Do your gums make your teeth look too short or stubby for your face? With our soft tissue laser, Dr. Whitaker can quickly give you that perfectly proportioned look you desire. Using the laser's highly focused beam of light, she can painlessly remove excess gum tissue to unveil beautiful, previously hidden dental structure. She can then shape the gums along the teeth to give your smile the ideal frame.
Cosmetic Dentistry FAQs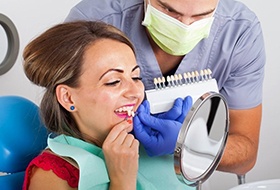 Here at Corbin Family Dental Care, we offer a wide variety of cosmetic services to address virtually any imperfection your smile may have. However, since most people aren't very familiar with cosmetic dentistry, it's perfectly natural to have a few questions. That's why we've taken some time to answer some of our most frequently asked questions about cosmetic dentistry for your benefit.
How Do Teeth Become Discolored in the First Place?
Teeth discoloration is unfortunately part of the natural aging process. As we get older, our enamel (the white outermost layer of our teeth) thins, revealing more of the yellowish layer of dentin underneath. In addition, certain habits such as smoking, using certain medications, poor oral hygiene, and frequent consumption of staining foods and drinks can cause yellow or brown discoloration of the teeth. Genetics may also play a part in the exact shade of your pearly whites.
Whatever the cause of your dental discoloration, we have several treatments you can choose from to attain a beautifully white smile again.
Is Cosmetic Dentistry Right for Me?
Ultimately, only a dentist can tell you whether you're a good candidate for cosmetic dentistry. However, virtually any patient who is dissatisfied with some aesthetic aspect of their smile could benefit from at least one of the procedures described on this page.
In general, we do ask that patients looking to undergo cosmetic treatments have generally healthy teeth beforehand. If, at your consultation, we detect issues like gum disease or cavities, those problems must be addressed prior to receiving cosmetic treatments.
Is Cosmetic Dentistry Ever Appropriate for Children?
In most cases, we usually recommend cosmetic dentistry to adults only, as their oral structures have finished developing, but that doesn't necessarily mean that a child or teenager could never benefit from these services. Many teens are conscious of their image and elect to brighten their smiles with Zoom! teeth whitening. We might also suggest dental bonding to fix a younger child's chipped or cracked tooth. If your child is interested in cosmetic dentistry, it couldn't hurt to schedule a consultation so they can examine their options with Dr. Whitaker.
Is Cosmetic Dentistry Covered by My Insurance?
The answer to this question depends on both the type of procedure you're receiving and your individual insurance policy. Some cosmetic procedures are substantially covered under most dental insurance plans, while others are almost never covered. In some cases, a cosmetic treatment might overlap into restorative dentistry (such as metal-free restorations) and be partially covered by your insurance. However, don't expect any coverage without first consulting your insurance company. If you need help getting in touch with them, our team will go above and beyond in filling out your paperwork for you and maximizing your benefits.