Implant Dentures – Corbin, KY
For Sturdier, More Stable Dentures
As useful as dentures are for helping you speak clearly and chew your food properly, they could end up shifting out of place when you don't want them to. In order to avoid this often-embarrassing situation – and to help your replacement teeth feel more natural in your mouth – Dr. Whitaker may suggest getting implant dentures. With well-placed dental implant posts, you'll be able to enjoy a much sturdier smile! Reach out to us today for more information about implant dentures.  
Why Choose Corbin Family Dental Care for Implant Dentures?
Partnered with Knowledgeable Specialists
Long-Lasting, Natural-Looking Restorations
Committed to Providing Exceptional Service
What Are Implant Dentures?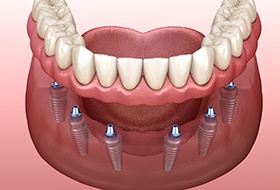 A traditional full denture sits on your gums and is held in place with natural suction. Implant dentures, on the other hand, are attached to your jawbone via dental implant posts. You can either get fixed implant dentures or removable ones depending on the circumstances: here's a quick look at how they compare.
Fixed/Permanent Implant Dentures
About four to eight implant posts are needed to support fixed implant dentures. When your dentures are permanently anchored to your mouth, you'll be able to brush and floss them the same way you would your natural teeth; as such, you won't have to make major changes to your oral hygiene routine.
Removable Implant Dentures
Removable implant dentures only need about two to five implant posts. The fact that fewer implants are needed can make this type of denture a good fit for patients with lower bone density levels in their jaws. On top of that, being able to take your implant dentures out of your mouth makes it easier to clean underneath them.
The Implant Denture Process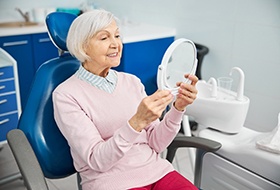 We'll need to make sure that you're able to get dental implants first, so an initial consultation where we examine your mouth is required. Some patients can only be considered candidates for dental implants following bone grafting and other preliminary treatments.
We'll refer you to a trusted local oral surgeon or periodontist for your dental implant surgery. Once the implant posts are in place and have fused with the jaw, you can come back to our office so that we can handle the process of designing and placing your new dentures.
Am I a Candidate for Implant Dentures?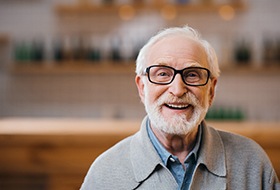 Have you lost a full row of teeth? Is your mouth free of gum disease (or any other oral health issues that might lead to dental implant failure)? Is there enough bone in your jaw for you to be considered a candidate for dental implant surgery? Do you generally take excellent care of your mouth? Answering "yes" to all of these questions could mean that implant dentures are a viable choice in your case.
Benefits of Combining Dentures & Dental Implants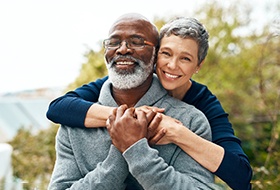 The implant posts will prevent your jaw from losing bone density.
You will be able to eat all kinds of foods thanks to the chewing power provided by the implant posts.
Your new teeth won't just look great; they'll feel natural as well.
Well-cared-for implant dentures can last in the mouth for several decades.