Nitrous Oxide Sedation – Corbin, KY
Fast & Easy Relief For Dental Anxiety
If you experience anxiety, fear, or nervousness at the thought of visiting your dentist, you're not alone. According to a study from the Colgate Oral and Dental Health Resource Center, an estimated 30 to 40 million Americans avoid visiting their dentist due to their fear. At Corbin Family Dental Care, we want you to feel comfortable while you're receiving the dental care necessary to preserve your natural smile. That's why we offer fast, effective, and easy-to-administer nitrous oxide sedation!
Why Choose Corbin Family Dental Care For Nitrous Oxide Sedation?
Experienced Sedation Dentist
Multiple Forms of Sedation Offered
Friendly & Kind Dental Staff
What is Nitrous Oxide Sedation?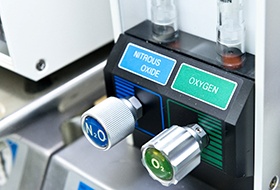 You may have heard of nitrous oxide referred to as "laughing gas", which is a completely colorless and odorless gas. It's breathed in through a small nose mask, and is used to help patients who suffer from dental fears and phobias feel more relaxed throughout their treatment. It's considered a completely safe method of sedation when administered by a trained professional like Dr. Whitaker. To learn more about the process or if you have any questions, don't hesitate to contact our office.
How Does It Work?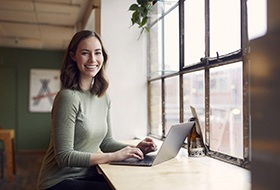 When you visit your sedation dentist in Corbin and have a seat in the treatment chair, we'll begin your appointment by placing a small nose mask on your face. This will administer the nitrous oxide gas so you can easily breathe it in. The effects will start to take place within a few minutes, making you feel euphoric, happy, and some patients have even stated that it makes them feel tingly. While under sedation, you also won't feel as much discomfort.
The mask will stay on for your entire treatment. Once we're done, we'll remove it and the effects will wear off within two to five minutes. This means that you can continue on with your day as you normally would and drive home after your appointment.
Who is a Good Candidate For Nitrous Oxide?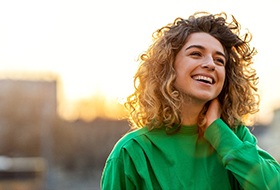 Nitrous oxide sedation is a great option for a variety of patients. Good candidates for this method of sedation include patients who have:
Dental anxiety
A phobia of needles
Tooth sensitivity
A sensitive gag reflex
Patients who may be pregnant or have a sinus infection or respiratory disease likely won't be great candidates for this service. However, the best way to learn is to speak with Dr. Whitaker before your visit.