Single Tooth Dental Implant – Corbin, KY
Filling in the Gaps One Tooth at a Time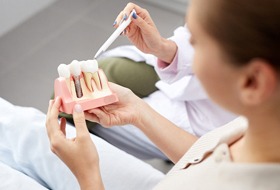 No one sets out to lose a tooth. Whether it happens as a result of poor oral hygiene or a trauma-related injury, the gap in your smile is one you most likely want to fill as soon as possible. At Corbin Family Dental Care, we are proud to offer a safe and reliable solution that can keep your oral health from deteriorating as well as improve and restore the look of your smile. With single tooth dental implants in Corbin, you can feel great about your appearance, no longer hiding from the crowd. To learn if you are a qualified candidate for dental implants, contact us today.
Single Tooth Replacement Options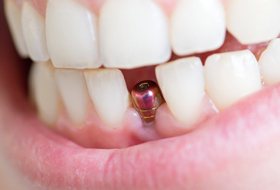 There are two ways you can replace your missing tooth: a fixed bridge or a single tooth implant. Depending on your personal preference, you might find that one solution is better than the other.
Fixed Bridge: Using three dental crowns that are fused together to create a dental bridge, Dr. Whitaker can take the natural teeth that sit on either side of the gap and file them down. These teeth will be used as anchors to hold your bridge in place but must undergo alteration to make sure the prosthetic fits snugly. The crown in the middle of the bridge will sit on top of your gums, giving you the look of a completed smile.
Single Tooth Implant: Your dentist in Corbin will work with designated specialists who will leave your natural teeth alone and only focus on the socket with the missing tooth. After making a small incision in the gums, the implant will be carefully placed and positioned before your gums are closed. You'll be sent home to heal for the next 3-6 months before returning to have your custom-made restoration placed on top of your implant, giving you a stable, more secure smile.
Benefits of Single Tooth Implants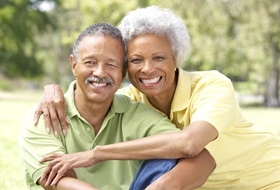 Missing teeth don't have to be a reality any more thanks to dental implants. Their natural appearance and ability to offer full functionality make it an effective and reliable solution but those aren't their only great benefits. When choosing implants to replace your missing teeth, you can also expect:
A longer-lasting restoration that will have you enjoying your smile for decades or longer.
A tooth that cannot decay. While an implant looks and feels like a natural tooth, it is still artificial, which means, it can't develop tooth decay.
Greater stability because of your implants surgical placement into your bone.
A completely natural look with your implant matching the color, size, and shape of your regular teeth.
Improved oral health because of your implant's ability to stimulate the jawbone and keep it strong.