Implant-Retained Bridges – Katy, TX
Long-Lasting Solutions to Severe Tooth Loss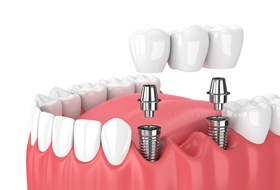 If you have multiple missing teeth, either ones that are consecutive or on opposite sides of your mouth, your appearance is far from the only thing you should be concerned about. In fact, chewing your favorite foods only becomes more difficult with every tooth that goes missing. That's why The Dental People offers implant-retained bridges in Katy for patients suffering from moderate to severe tooth loss. Here's the good news; you can replace several missing teeth with only one to two implants! To learn how it works, give our office a call to schedule a consultation today!
Missing Two Consecutive Teeth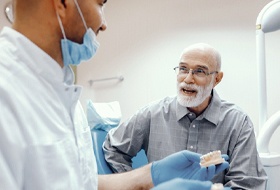 When you are missing just one tooth, you may be able to get away with skipping treatment for a little while. When you're missing two consecutive teeth, things can get quite a bit trickier. At this point, replacing your missing teeth becomes vital to lowering your risk for future tooth loss. Thankfully, a dental implant is capable of holding a two-crown bridge in many cases. If not, two implants will certainly be enough.
Missing Three or More Consecutive Teeth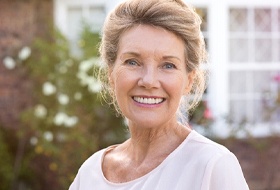 For a traditional dental bridge, a series of crowns are fused together, with prosthetic teeth in between them to fill the gap in your smile. The crowns adjacent to the gap are hollowed out so they can be placed on top of existing teeth, which means that natural enamel needs to be modified to fit the bridge (much like how a dental crown covers a damaged tooth.) If you want to replace three or more teeth, we still place a bridge. However, the biggest difference is that a pair of dental implants hold the restoration, rather than natural teeth.
Missing Teeth Throughout Your Arch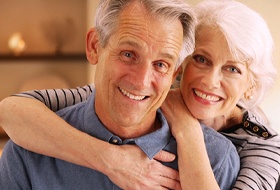 If you have missing teeth throughout your entire arch, you can still replace them with an implant-retained bridge. While it depends on the circumstance, we can place a handful of dental implants so that a partial denture can be attached. We will perform a detailed examination of your mouth and discuss your treatment options available to you. From there, we'll begin the process of designing your custom-made prosthetic.
What are the Benefits of Implant-Retained Bridges?
Choosing dental implants to hold your replacement teeth, rather than forcing existing teeth to carry the burden, comes with its fair share of benefits that you won't find anywhere else. For example:
Your biting force becomes much stronger, making it easier to enjoy your favorite foods.
The jaw bone is regularly stimulated by the implants, improving the health of your remaining teeth.
You don't need to remove any existing tooth structure, which is always a good outcome, especially for patients who already have reduced enamel.
Your tooth replacement can last 30 years and longer when properly maintained, making it a fantastic long-term solution compared to traditional bridges and partial dentures.