How Dental Implants Work – Corbin, KY
The Road to a Better Smile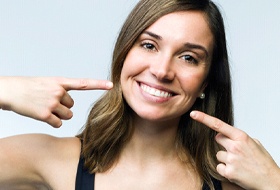 Getting dental implants in Corbin is a process that takes multiple appointments. It's important to know what to expect so that you can plan accordingly and aren't caught off-guard. Dr. Whitaker is happy to answer any questions you might have about your implants, the surgery, and any additional procedures that might be necessary. If you're ready to take the first steps towards filling the gap in your smile, contact us today to schedule a consultation!
Initial Dental Implant Consultation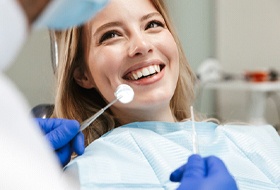 Before anything else, we need to determine that you're a good candidate for dental implants. We'll examine your jaw and check to make sure they're dense enough to support the implant posts; if they're not, you might need to get bone grafts first. Oral health problems like gum disease will also need to be treated.
Of course, we'll also need to check how many teeth are missing so that we can decide how many implants are needed and what kind of restoration they'll support. Is there only one tooth that can be replaced by a crown, or will you need a dental bridge supported by a pair of implants to replace multiple teeth at once? We'll make a plan based on your individual needs.
Dental Implant Surgery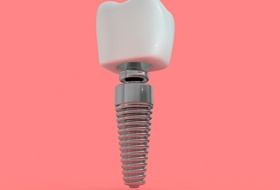 Once we're sure your jawbone is ready, we'll schedule the actual surgery. Depending on the complexity of the procedure or any dental anxieties you have, you might receive local anesthesia or sedation to control the pain. We'll tell you whether you'll need to avoid eating or drinking anything before the surgery.
A small incision is made in the gums to expose the bone. An appropriate number of holes will be created, and the metal implant posts that will serve as the "root" of your new teeth are inserted.
Dental Implant Osseointegration & Abutment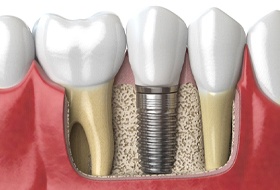 Before you can receive your permanent restorations, your jaw needs time to heal around the implant. A process called osseointegration will let the bone essentially fuse with the metal post. This is how dental implants prevent bone loss; being integrated in this way lets them provide the stimulation that the jaw needs to stay healthy and strong.
It can take several months for osseointegration to be complete. After that, it'll be time to place an abutment. This is a connecting structure that will hold the crown or other restoration firmly in place. The abutment is placed at the gumline; after that, a little more healing is required before you can receive your new tooth.
Placement of Dental Implant Restorations
Finally, it'll be time to receive your permanent crown, bridge or denture. They'll be made from a high-quality dental ceramic. Not only are they durable, but they're also natural-looking; most people won't be able to tell your smile has a false tooth in it! Most of the time the restoration will be fixed in place, but in some cases – specifically with implant-retained dentures – they can be removeable depending on your needs.