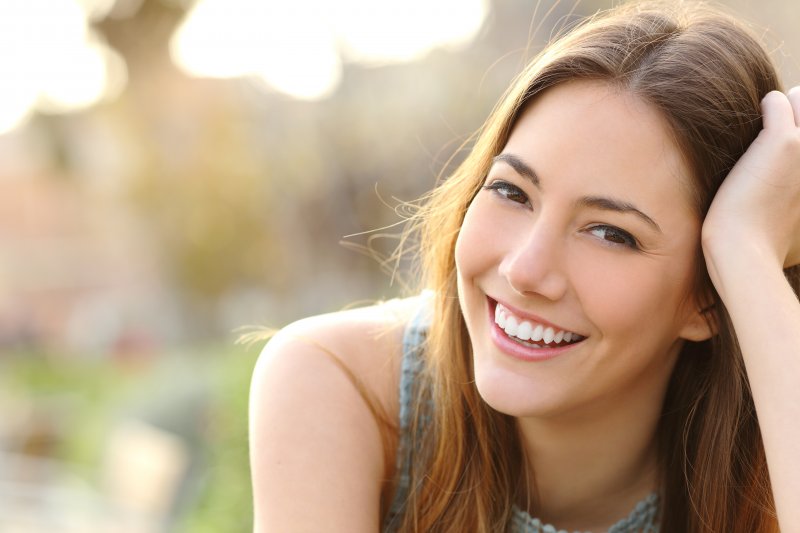 Do you wish your smile was as blindingly white as the ones you see on the red carpet? Don't worry – you're certainly not alone. The desire for perfect pearly whites is widespread, thanks to the countless ads and commercials glamorizing them. However, it's important to remember that teeth naturally change colors over time. Factors like genetics, aging, diet, smoking, and certain health conditions can cause everyone's smiles to vary in shade. Read on to learn what your tooth color says about you.
White Teeth
Did you know that teeth are whitest when your body is young and growing? That's because baby teeth, also known as primary teeth, are much more calcified than permanent teeth. In adults, a white smile gives the impression that you're healthy and practice good oral hygiene. However, just because it appears healthy doesn't necessarily mean that it is. It's still just as crucial to visit your dentist for routine cleanings and checkups.
Yellow Teeth
Permanent teeth are naturally darker than baby teeth simply because of their tooth structure. Dentin, the yellow layer immediately underneath the enamel, makes up more of the tooth structure on permanent teeth. As a result, it's much more noticeable and has a bigger impact on the color of your smile. Although dentin naturally darkens as we age, poor oral hygiene and dietary choices can also cause your teeth to have a darker yellow color.
Brown Teeth
If your teeth look brown, that's likely the result of yellow stains worsening. The discoloration can also be caused by injury, aging, medication, or smoking and chewing tobacco. Frequent consumption of tannin-rich products like wine, black tea, or coffee is another factor that contributes to a darker color. However, be cautious of brown spots as they could be a sign of early tooth decay. If you notice them, schedule an appointment with your dentist right away for treatment to prevent the decay from progressing.
How to Get a Brighter Smile
Contrary to popular belief, a healthy smile is not always going to be paper-white. Even if you take excellent care of your teeth, they're bound to develop a yellow or brownish tone as you get older. But if you want to achieve a perfect white grin, here are a few ways you can do so:
Professional teeth whitening treatment
Good oral hygiene routine (brushing your teeth twice a day and flossing daily)
Avoid tobacco products
Limit sugary drinks, alcohol, tea, and coffee (but if you decide to indulge, use a straw!)
Visit your dentist regularly for routine cleanings and checkups
As you can see, some yellowing is unavoidable, no matter how much you brush and floss. Regardless, proper dental care and a healthy lifestyle can help you enjoy a bright set of pearly whites for as long as possible!
About the Practice
At Corbin Family Dental Care, we offer exceptional, individually tailored, compassionate dental care for patients of all ages. Our team is proud to provide truly comprehensive dentistry! With routine cleanings and checkups, we can make sure your smile stays as white as possible. If you have any questions about your tooth color, don't hesitate to contact us. Visit our website or call (606) 523-1415 to schedule an appointment.