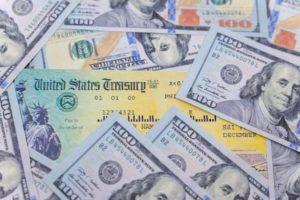 Tax Day is April 15th, but most people file and receive their refunds long before then. If you have a sizable check coming your way that you're not sure what to do with, invest in yourself! It may seem odd, but by bringing your oral health up-to-par and making sure any dental work that needs to be done gets done, you're making a decision that's both good for the health of your mouth and your body. Read on to learn why it's a smart investment to put your tax refund where your mouth is!
Keeping Up with Your Oral Health Can Save You Money Down the Road
If you have dental insurance, you may be familiar with how they decide coverage for many plans. They utilize a 100-80-50 structure, which means that they cover 100 percent of preventive care, 80 percent of basic treatments, and 50 percent of more serious procedures. Because of this, you'll always be able to save the most money by keeping your oral health on the right track instead of letting issues become worse.
Even if you don't have dental insurance coverage, the longer you leave an oral issue, the more serious it can become, resulting in invasive and costly procedures and the need for an emergency visit. By visiting your dentist for your bi-annual checkup and cleaning and never putting off treating your oral health problems, even if they're in their earliest stages, you'll be able to save money in the future.
The Connection Between Your Mouth & Body
Gum disease is one of the most common oral health problems in the country, affecting an estimated one out of every two adults, according to the Centers for Disease Control and Prevention. Several studies have shown that as this disease progresses, it can put you at a higher risk of developing medical conditions, including strokes, cardiovascular disease, and even diabetes. In the time of COVID-19, it has also been shown to result in worsening symptoms. By investing in gum disease therapy and other treatments to help address any lingering issues, you'll be looking after your physical wellbeing as well as your smile.
Give Yourself the Boost of Confidence You Need This Year
If you've been unhappy with a chipped front tooth, dental discoloration, or are missing teeth, then it's a no-brainer to invest a portion of your tax refund into rebuilding your confidence in your smile. Cosmetic and restorative treatments like dental implants and porcelain veneers can have a drastic, positive impact on your day-to-day life by making you less self-conscious each time you open your mouth. Instead of hiding your smile behind your hands or lips, you'll be able to show it off with confidence if it's complete and beautiful.
There are endless items and services that you could spend your tax refund on, but by investing it into your smile, you won't just be boosting your confidence, you'll also be improving your daily life and physical health. That sounds like a win-win!
About the Author
Dr. Katherine Whitaker loves being a dentist because she's able to forge long-lasting, meaningful relationships with her patients in order to provide them with exceptional oral healthcare. She regularly stays up-to-date with the latest technology and techniques in the dental world, earning her certifications in IV sedation, laser dentistry, and many other specialized services. By offering a large menu of dental treatments, she's able to treat patients of all ages. For questions or to schedule a consultation to learn about what cosmetic or restorative treatments can help you smile with confidence again, visit Corbin Family Dental Care's website or call 606-523-1415.