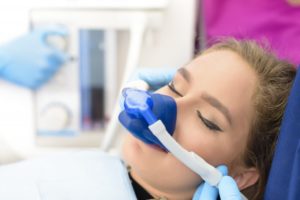 Does the idea of visiting the dentist cause you to break out in a sweat? Do you worry about the sights, smells, and sounds that occur during a typical appointment? Dental phobias are real and can cause individuals like yourself to forgo regular treatment, effectively putting your oral health in jeopardy. Fortunately, sedation dentistry is a great way you can overcome your fears and anxiety. But did you know it has additional benefits? A local dentist shares 4 unique ways sedation can help make your next appointment more enjoyable.
It Reduces Your Gag Reflex
Something as simple as a dental checkup and cleaning can cause you discomfort, especially if you have a sensitive gag reflex. Even impressions can cause you to choke because of the contraption placed in your mouth. With sedation dentistry (i.e., nitrous oxide, IV sedation), the gagging sensation and response will be temporarily paralyzed, allowing you to remain comfortable while your dentist completes their work.
It Can Cause Amnesia
While this might sound undesirable in most situations, the truth is most people have a fear of the dentist because of a previous traumatic experience. If this is why you continually avoid seeing a professional for regular dental work, you're not alone. Over time, the reminder of what once occurred can keep you from seeking oral healthcare, which can lead to more serious damage to your teeth and gums. But with sedation, you will likely experience mild amnesia, preventing you from remembering what occurred during your appointment.
It Allows Your Dentist to Work Faster
When you do not have sedation dentistry to keep you calm during your appointment, it increases the risk of complications. Your dentist is unable to work efficiently or effectively, resulting in a timelier visit that is unpleasant for everyone. However, if you receive sedation, it will allow you to remain calm and relaxed while your dentist can complete the cleaning, fill a cavity, or place a dental crown. Not only will you be in and out of the dentist's office quicker, but you'll also have a more enjoyable experience that leaves you with greater results.
It Makes it Possible for You to Undergo Multiple Procedures
If you have significant dental decay or damage, it may be necessary to undergo multiple procedures to fix every problem. To avoid visiting your dentist's office numerous times, it can be helpful to have them all completed at one time. Using sedation dentistry can help with these types of situations, as it will not only keep you from scheduling various appointments, but it will also allow you to have one recovery period instead of two or three.
Dental work of any kind can be worrisome to most individuals, but if you talk to your dentist about sedation dentistry, you can get the care you need while feeling more relaxed during your visit.
About the Author
Dr. Katherine Whitaker completed her doctorate at the University of Kentucky College of Dentistry before going on to earn her certification in IV sedation from the University of Alabama at Birmingham (UAB). As the only dentist in a 40-mile radius who is trained to offer IV sedation, Dr. Whitaker's compassionate approach helps patients relax and feel more at ease during their appointments. If you have dental anxiety, contact us via the website or call (606) 523-1415.