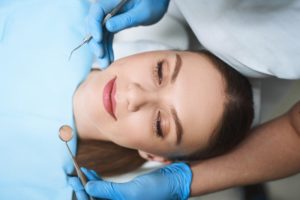 Do routine dental visits send a bead of sweat down your spine? Does dental-related anxiety make it difficult to even make an appointment? If you answered "yes" to either of these questions, then you are not alone. However, it is important to know that even if you've had a bad experience in the past, your next trip to the dentist doesn't have to be a scary one! Read on for the real problem with dental fear, why routine visits are so important, and how you can experience anxiety-free dentistry.
The Real Problem with Dental Fear
Like most phobias, the fear itself isn't inherently dangerous. However, the effects on your behavior certainly can be! For example, patients who struggle with mild to severe dental phobia often forgo their routine visits and go years without getting the dental care they need. Naturally, the consequences on your teeth and gums are disastrous, but it can impact your overall health as well. If neglected, the bacteria from an infection can enter your bloodstream and travel to your vital organs, leaving you vulnerable to conditions like heart and lung disease. Therefore, it is of the utmost importance that your dental fear doesn't prevent you from attending your routine appointments.
5 Additional Reasons Routine Appointments Are Crucial
If you are considering skipping your next bi-yearly visit, it is important to remember that your dentist does more than simply check for cavities. In fact, your regular trips to the dentist also:
Address small concerns before they become large dental problems.
Lead to the early detection of non-dental issues, like oral cancer and osteoporosis.
Catch gum disease in the beginning stages.
Prevent stains and discoloration from forming.
Remove stubborn plaque and tartar.
Enjoy an Anxiety-Free Experience with Sedation Dentistry
The good news is that you can get the dental care you need without the anxiety-inducing experience thanks to sedation dentistry! Patients with mild anxiety can opt for nitrous oxide (a.k.a. laughing gas), which is an inhaled sedative that results in a deep state of relaxation. Plus, the effects wear off quickly, so patients can remain comfortable throughout their appointment without the "hangover" effect afterward. For patients with more severe dental anxiety, IV sedation can be administered for quick, powerful relief. While patients will remain conscious with both of these options, IV sedation will result in little to no memory of the visit and necessitate someone to drive you to and from your appointment.
If dental fear has prevented you from attending your routine appointments or getting the treatment you need for a painful toothache, talk to your dentist about sedation dentistry! That way, you can get the dental care you deserve without the anxiety that previously accompanied it.
About the Author
Since completing dental school at the University of Kentucky College of Dentistry, Dr. Katherine Whitaker has helped numerous patients with dental fear get the care they need in an anxiety-free environment. In fact, she is the only dentist in her area that is currently certified in IV sedation! Her top priority is making each person feel comfortable in the treatment chair, and she goes above and beyond to make that goal a reality. So, if fear has prevented you from attending your bi-yearly visits, don't hesitate to visit her website or give her a call at 606-523-1415.