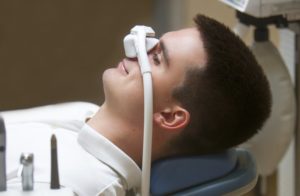 Are you always nervous to visit the dentist? If so, your anxiety probably stems from a fear of pain. It sounds like you could benefit from sedation dentistry. You may have heard that sedation dentistry is when your dentist uses medication to help you relax for your procedure. But does it keep you from feeling pain? Short answer, yes. For the longer answer, let's take a closer look at the 3 different types of sedation and how they prevent pain.
Inhalation Sedation
Inhalation sedation involves a nasal mask being worn through which you will breathe in an odorless gas called nitrous oxide. It's also known as laughing gas because within just a couple of minutes, it will take the edge off your anxiety by putting you in a state of euphoria, so much so that you might even get the giggles.
You'll be awake during your treatment, but your memories of the procedure will likely be a little fuzzy. The best thing about nitrous oxide is that it wears off quickly, allowing you to return your day very soon after your treatment is done.
Nitrous oxide sedation would be ideal if you:
Experience mild dental anxiety
Have sensitive teeth, gag reflex, or gums
Have trouble opening your mouth
Need dental work done in a short amount of time
Oral Conscious Sedation
For moderate to severe dental anxiety, oral sedation might be the better option. For this treatment, your dentist will prescribe a pill to be taken before your appointment. This pill will cause a wave of relaxation to wash over you. You will probably experience some grogginess and even mild amnesia around the procedure. The effects will last the rest of the day. For these reasons, you'll need someone to drive you to and from the office.
Oral conscious sedation is recommended if you have:
Fear of needles
Fear of the sounds, sights, and smells of a dental office
Severe dental anxiety
Sensitive gag reflex
A need for a lot of dental work done in one visit
IV Sedation
If you would prefer to not be conscious at all during your procedure, IV sedation would be perfect for you. You will not be awake to receive treatment, meaning you will neither feel nor remember a thing. You will receive a sedative through an IV needle hooked up to your arm that will send you off to dreamland. The amount of sedative can be monitored and adjusted throughout the procedure.
IV sedation would be good for you if you:
Have serious dental anxiety that causes you to have a panic attack even thinking about the dentist
Become ill in the waiting room
Need extensive procedures
All three of these sedation methods will numb pain. If that wasn't enough, you will not even remember the majority of your procedure. If you are frequently nervous to visit the dentist, ask your dentist if they offer sedation.
About the Author
Dr. Katherine Whitaker achieved her dental degree from the University of Kentucky College of Dentistry. She earned her certification in IV sedation from the University of Alabama at Birmingham. Her professional affiliations include the American Dental Association, the Kentucky Dental Association, and the Southeastern Dental Society. If you find yourself afraid of getting the dental care you need, reach out to Corbin Family Dentistry for a consultation to find out if sedation is right for you. Visit us on our website or call (606) 523-1415.