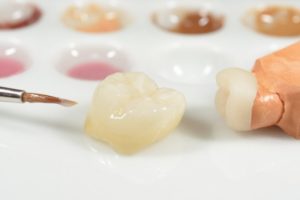 If you've been comparing dentists, you may have noticed some of them offer CEREC technology. CEREC, which stands for chairside economical restoration of esthetic ceramics, allows dentists to create crowns the same day a patient comes in for treatment. For this reason, they're also referred to as "same-day crowns" and often lauded for their convenience and versatility.
With that being said, it doesn't mean they should replace traditional crowns entirely. Keep reading to learn why it may be better for you to choose dental crowns in Corbin for your next restorative treatment.
The Disadvantages of CEREC
Same-day crowns are often praised for their convenience and durability, but what you don't often hear about is their appearance. Crowns created through CEREC are milled from a single block of ceramic. This makes it almost impossible for the crown to match your existing teeth, making it look extra apparent that you've had a crown placed. If you plan on getting a same-day crown for one of your visible teeth and you care deeply about the appearance of your smile, it may be worth having second thoughts.
Furthermore, CEREC technology is still incredibly complex, so only a dentist will be able to use it effectively. If your dentist isn't available that day, then a hygienists or dental assistant won't be capable of creating the crown you need until the dentist comes back. Creating CEREC crowns is an extremely technical process, so only certified individuals should be operating CEREC machines and designing crowns.
When a Traditional Crown is More Appropriate
It's worth mentioning that traditional dental crowns tend to use more durable and longer lasting materials than what you'd find with same-day crowns. This sturdy material, typically consisting of a combination of porcelain, gold or silver that's fused to metal, provides a strong substitute for replacing natural teeth. This assures that your crown last for an incredibly long time and may not necessarily be the case for a crown made exclusively through ceramic materials. If you want the most durable solution to restoring damaged teeth, it's hard to recommend same-day crowns over traditional ones.
How Dentists Ensure the Highest Quality Restoration
When you visit a dentist that puts more of their focus on traditional crowns, you're not just getting any run-of-the-mill dental crown. You're getting a crown that's customized exactly for your smile in both shape, size and appearance. You're getting a crown made by the best local dental labs in the area. In order to be the best, they need to be using the latest technology, techniques and materials to make your crown look natural in your smile.
When you're trying to repair a cavity or hold weak teeth together, the most reliable option has always been traditional crowns. Schedule an appointment with a dentist in Corbin today to get started restoring your smile!
About the Author
Dr. Katherine Whitaker earned her dental degree from the University of Kentucky College of Dentistry. She offers only the best in dental crowns, from their high-quality materials to their incredibly natural-looking appearance. If you're looking for the best, her office is the one to visit. To learn more about her practice, you can contact her through her website.